About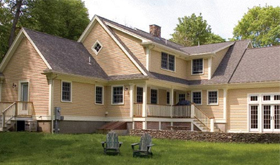 About Deer Hill Architects—Your Vision is Our Passion
What can you expect when you work with Deer Hill Architects? A true partnership on your construction project, where your vision gets top priority.
Deer Hill listens to you
Deer Hill is known for not imposing their own opinions, but for listening to the client. Deer Hill not only wants to hear your ideas, but will actively query you to determine exactly what it is you want. They'll listen with insight, not just to your literal words but also for the core architectural issues. They'll then come up with solutions that incorporate your vision in gracious and innovative ways, making your project one-of-a-kind rather than a duplication of what has been done before.
Deer Hill captures what you want
For instance, you may know that you want a lot of windows. Deer Hill knows that it's not just windows you want —it's what windows represent… sunlight, warmth, views, spaciousness, and energy efficiency. We work with you to determine the best type of window for your house style, the best sizes and locations for optimum views and daylight, and the best glazing options for energy efficiency. To ensure that you get what you want, these details need to be determined long before building.
With our Comprehensive Construction Documents service every detail of proportion, construction, and materials is discussed with you before construction begins. You'll get the benefit of realistic estimates and complete client control. This saves time and money later, since fewer questions come up during construction. Problems are solved before they even happen.
Deer Hill makes it happen
Deer Hill won't stop drawing until you're 100% happy. Most projects with Deer Hill go through several design revisions, taking the best features from the many options and blending them into a final design that meets your full approval. Deer Hill is patient and thorough, and they won't be happy with the plans until you are.
You'll leave the project with a true sense of ownership and pride of accomplishment, while experiencing the joy of creating something new. Make Deer Hill your architectural partner, and see your vision become reality.
Call Deer Hill today to discuss the possibilities.
---
About John Crowell
An architect from the beginning
"At four, I was using blocks to make buildings," says John Crowell, principal at Deer Hill Architects. "My father was in construction, so I went to a lot of projects on weekends and odd jobs at people's houses." John's seventh grade yearbook even says his plan was to be an architect. When you know that early where your heart lies, you have a lot of time to get remarkably good at what you do.
The science and music of architecture
Architecture appeals to John because it's both artistic and mathematical. He's able to be precise and thorough while bringing someone's vision to fruition. He likes to think of architecture as "frozen music"—full of mathematical relationships and highly scientific, yet always including a sense of harmony and artistry.
"I've often sat and listened to music and tried to imagine the architecture the music is creating," John says. "The slow part might be a small hallway, but then the song bursts out and suddenly you're in a big open sunny space. Architecture creates moods just like music does." This innate sense of order and beauty makes working with John an experience of discovery.
The professional path
John earned his Bachelors of Architecture and Building Science from Rensselaer Polytechnic Institute in New York State. In order to earn his architecture license he had to work for an established architect, but he knew all along that he'd go out on his own as soon as he could.
That day came in 1989, when he started his first company, Crowell Design. In 2001 John launched Deer Hill Architects LLC.
Working with John
"What I'd like to be known for," says John, "is good design that adds value." John's tools are an instinct for proportion and grace, as well as a sense of history. When John envisions a new structure, he calls on all that he knows of great designs throughout the world, putting the best principles to work on even the simplest projects. What's guaranteed then is a result that is harmonious and proportioned. It just "feels" right.
Call Deer Hill today to discuss making your vision a reality.
---
Deer Hill Featured in the Press
Read how Deer Hill is described in these fine publications.
The Power Of Change, North Shore Living, Autumn/Winter 2005
See how Deer Hill Architects turned an aluminum sided 1950's ranch into an "historic cape".